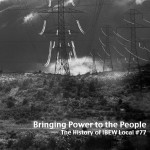 Bringing Power to the People was published in 2013. It's about  tells the history of IBEW Local #77  (a Washington State local of the International Brotherhood of Electrical Workers).
Now I am working on getting copies into the appropriate libraries and archives, and tooling up for another project.
Because Local #77 has represented many of the workers who built, maintain, and operate the electrical system in Washington State and beyond, I had the opportunity to research and write about everything from regional electrification to the bowler hats linemen once wore.
Throughout Local #77's history its members have supported one
another, under different employers and across their trades, to gain
living wages and safer working conditions while providing reliable
electricity to the Pacific Northwest.
I had a great time giving a show with illustrations and stories from the book at Washington Works, the 2013 Northwest Folklife Festival.
Copies of Bringing Power to the People are available directly from IBEW Local #77
You may also contact them directly:
IBEW Local 77
PO Box 68728
Seattle, WA 98168
Phone: 206-323-4505
Or you can get a copy from me directly. Drop me a line: info (at) elliebelew (dot) com