Which is stranger, fact or fiction? Which is truer?
History is a slippery fish, grown large, as it swims the murky waters of memory.
It has been my great good fortune to document communities that understand their legacy includes the ferocious struggles and sometimes bitter acrimony as well as an account of noble deeds.
I have tried in each of these projects to respectfully document each story and memory, and let the braiding of these seemingly smaller stories tell the larger story.
---
High Voltage Women: Breaking Barriers at Seattle City Light
I have been working with Red Letter Press (Seattle),
researching and writing a history of some of the first women to break into the  electrical trades. Seattle City Light (SCL) started a training program for women in 1974, but it was more to meet affirmative action requirements than to change anything at the utility's workplace.
What lionesses nine of these ten women were!  What a horror of hideous harassments, blatant discriminations, and legal nightmares they waded through while trying to learn their craft. I'll have more about this book soon…..
---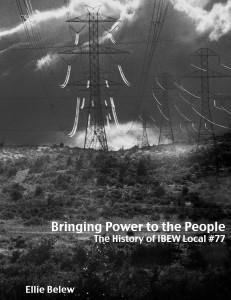 Bringing Power to the People, The History of IBEW Local #77, is a history of the workers who built, maintain, and operate the electrical system in Washington State and beyond.
I had the opportunity to research and write about everything from regional electrification to the bowler hats linemen once wore.
The solidarity of 's (International Brotherhood of Electrical Workers Local #77) members is a model for what workers can accomplish.
More about this book…
---

Documenting the history of the WSCFF (Washington State Council of Fire Fighters) meant documenting a coalition—a coalition of municipal and fire district locals, and a working coalition of individuals who choose to work for the union movement at the state level.
WSCFF members became working heroes in communities that had considered them unskilled slackers decades before.
More about this book…
---
The Heritage Project
THis is an ongoing project to document the heritage and culture of the Roslyn-Ronald-Cle Elum area. More about this project…
---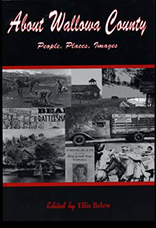 A collection of stories and images from the remote northeastern corner of Oregon. Sadly, it is now out of print.
More about this book…