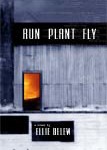 The town of Raventon, on the east side of the Washington Cascades, has seen better times. It is a refuge for those who have wandered then returned, and a haven of possibility for others, who arrive from elsewhere. When rumors of big-money development start circulating, and a chunk of timberland is transformed into the Simulator® — the world's first franchised virtual reality amusement center — Raventon and its inhabitants are drawn into a firestorm of change and ultimately, destruction, that calls into question the very nature of memories and what they mean.
ISBN 0-918957-24-9 novel with CD- SOLD OUT
ISBN 0-918957-25-7 novel
$19.95
DIRECT ORDER PRICE: $15 (includes S/H and Wa. State tax)
I am switching over my website, and will get the paypal links below working very soon.
In the meantime, please use my contact info to be in touch. (08-01-15)

Say you're watching a movie about a huge forest fire, and don't realize the theater is burning, until you run outside and find yourself in a huge forest fire? Reading Ellie Belew's fireball of a novel is like that. The edge between real and unreal keeps shifting, brightness brings darkness, and the lives of ordinary people in a small American town strike across each other and flare up into pain and beauty.
– URSULA K. LE GUIN
Ellie Belew writes with such a precision of language and breath of imagination that she's able to shift through time, space, and the memories of her characters with a wonderful ease and grace. She's a delightful writer.
– JIM CRUMLEY
In this her debut novel, Ellie Belew combines the care of a seamstress with the relentless honesty of an intrepid reporter. She reminds us that no small town is normal if you look at it closely and no small-town community is uninteresting if you expose its mysteries and secrets with compassion and understanding. The book unlayers Raventon, Washington, a one-time logging and mining town that is on its way down. Into this world comes the futuristic Simulator, a virtual entertainment center that one character describes as "somewhere between the Mall-of-America, Disney World, and a therapist." The Simulator is hardly a curative for what ails people; the only curative is the truth that gradually surfaces in the lives of Belew's many memorable characters. I admire this book both for its masterful construction and for its brave explorations of the complex human desires, fears, and needs in seemingly simple people.
– JIM HEYNEN
To buy Run Plant Fly:
Order directly from me, above.
Order from your local independent bookstore, so that your purchase supports those who have a long-term commitment to keeping a variety of authors in print.
And if you must, you can order from Amazon, Barnes & Noble, and Borders. I would ask you to consider instead ordering from your local independent bookseller, so that your purchase supports those who have a long-term commitment to keeping a variety of authors in print.
Updates and Events
We are now in our second printing, no small feat for an unknown author and a tiny press. Thanks to all of you who helped make this possible.
I have been hard at work at a new novel, the first set entirely before I was born. I've posted a few of the opening chapters, and you can tell me what you think. As Though There Were No Tomorrow overlaps the characters and settings of Run Plant Fly, as well as another novel I have written (but not yet published), Joined at the Throat.
I have also been working on a project dear to my heart, Heritage Interviews, an ongoing project to document the heritage and culture of our community. We have completed two projects so far, and are at work on a third.
If you have ideas for an event or venue featuring Run Plant Fly, please get in touch. I am especially interested in meeting or talking with book clubs, so let me know if you and yours are interested.And don't forget to Try Living Your Dreams!®
---
Is there someplace I should do a reading?
Please email details to info (at) elliebelew (dot) com and I'll see what I can do.
Book Club and Reader Questions– Twenty or so…
A sampling of questions the author might ask readers, or that readers might ask themselves, in no particular order.
If you have a book club that is interested in reading Run Plant Fly, please contact us at info (at) elliebelew (dot) com
Regarding characters
Does gender play an critical role in the actions and experiences of the major characters in Run Plant Fly? How would the story have been different if Cuz had been male? If Raso Cantoni had been a woman?
What are the differences between Raventon's society and your own? How much if this is based upon geography? How much on economics? How much on individual characters?
The Llamados move to Raventon and are watched carefully in large part because they are Hispanic. Do any of the Llamados become a part of Raventon's society?
Is Waterqueen a realistic character? How would you use her to describe the difference between mysticism and dementia?
Regarding characters
What was your impression of the physical setting of the novel? What part does geography play in determining what happens in our lives? Does living in a city or small town or the countryside affect the degree to which we are affected?
The author has described this novel as being written is a style she defines as "Northwest Noir." Do you think this story is particular to the Northwest? Simming and the Simulator?
Both the Simulator and Experiences have registered trademarks. At what point should common objects, verbal expression, and DNA be protected from becoming private physical or intellectual private property?
Frankenstein was created from human parts but acted as a monster. What are the differences and similarities between Frankenstein and the Simulator? Does the Simulator have good or evil aspects or do such qualities come from those who Sim?
How would you compare the Simulator to what P.T. Barnum and his circuses, Walt Disney and his animation, or Cirque du Soliel are attempting as "entertainment?"
Cuz considers the possibility of Simming for God (p.80-81). Are all acts of faith equally subjective?
Do we as human beings crave ever more intense stimulation? Are Sim junkies plausible?
Regarding plot, and the unfolding of events within the novel
One reviewer spoke of the "healing part of the novel" in referring to Dorth's performance piece? Do you agree? If so, who or what was healed?
Is the novel a tragedy?
And then there is the business of themes and possible symbolism…
What is the relation between water and fire in this novel? What, if anything, do they symbolize?
Does the title, Run Plant Fly, and the Prelude which uses it as metaphor, relate to any particular character or situation within the novel? What do you think about using such an analogy for our own conscious actions?
What do you think of the Prologue?