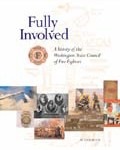 Fully Involved tells the stories of the professional fire fighters of Washington State and their role in the union movement. Weaving together personal accounts, legislative and regional histories, and jammed with illustrations, this book brings to life the successes and failures of a group that has become one of the most powerful political entities in the state.
The Washington State Council of Fire Fighters (WSCFF) was created in 1939, on the heels of the Fair Labor Standards Act, the splintering of the CIO from the AFL, and the beginning of World War II in Europe. In the following sixty-four years the WSCFF and its member locals forged ahead on the WSCFF's two-pronged mission: education and legislation. They earned improvements in working conditions, pensions, health benefits, and collective bargaining rights. WSCFF members also became working heroes in communities that had considered them unskilled slackers decades before.
Readers can follow a variety of topics and individuals through history using the book's detailed table of contents, links within articles, an index and appendices.
"….fire fighters have their own history of fighting for tolerable hours and the right to bargain collectively. Fully Involved documents that history for the state of Washington, highlighting the larger-than-life personalities that built the Washington State Council of Fire Fighters, along with delicious details about their rivalries and strategic use of whiskey. It's not only fun to read, it's a gift to all fire fighters and to working people everywhere.
from the introduction, by Barbara Ehrenreich, author of Nickel and Dimed
Published by the Washington State Council of Fire Fighters
ISBN 0-9752720-4-7
Paper 9×12, 286 pages $19.95
ISBN 0-9752720-3-9
Hardcover 9×12, 286 pages $39.99
Copies of Fully Involved are available directly from the WSCFF, on their web site
You may also contact them directly:
Washington State Council of Fire Fighters (WSCFF)
1069 Adams Street SE
Olympia, WA 98501
360-943-3030
800-572-5762
historybook@wscff.org
Awards
Fully Involved received Honorable Mention and consideration as one of Independent Publisher Online's Ten Outstanding Books of the Year. The "IPPY" Awards, launched in 1996, are designed to bring increased recognition to the deserving but often unsung titles published by independent authors and publishers. The 2005 Awards recognize Outstanding Books of the Year in a variety of non-fiction and fiction categories, and received more than 2,200 entries.
Fully Involved was also awarded Honorable Mention in the International Association of Fire Fighters 2005 Media Awards Contest.