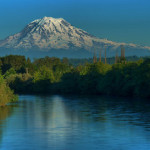 It is 1973, and big changes are coming to Tahoma, a sleepy farm town on the slopes of majestic Mt. Rainier. A couple in their fifties, the Mirandos, face losing land they have farmed for a lifetime, while their son fights to escape his bond to this farm, to his family, and to anything. Despite himself, he falls for a young waitress, who seeks what he is fleeing: a home place and ties that bind.
In nearby Seattle, a young developer and his Japanese-American assistant stake their future on a business park that will include the Mirando's farm.
Only as the deal is about to close do they all learn that this farm was seized from its owners during the Japanese internment a generation earlier. Now they must decide who should lay claim to the farm.