Inveterate reader that I am, it seems worth citing a title now and then, with some commentary.
The following sections are from some time ago.
---
---
Ben Okri, Stars of the New Curfew
I got Okri's name from an interview with another writer, who cited this collection of Okri's for its successful blend of very harsh reality with indigenous religious perspectives. These stories are an almost hallucinogenic portrayal of modern Lagos, writing that portrays the horrible and the desperate with absurd beauty, as the supernatural interacts with the urban.
---

Phillip Roth, The Plot Against America
I must admit I have not been much of a Roth fan before this novel. Perhaps this is because my first exposure (ha) was Portnoy's Complaint at age thirteen. Let's just say it didn't speak to me at the time. The Plot Against America has U.S. voters electing Lindberg over FDR. Freedom of the press does not follow. It is not unlike some of Ishmael Reed's perspectives on political power and racism as they mix with the American Dream-cum-Nightmare. Capital City by Mari Sandoz also comes to mind as a novel about the appeals of fascism in an era that includes progressives.
---
Patrick D. Smith, A Land Remembered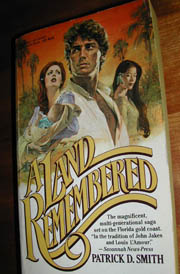 A florid Floridian historical novel. Smith's style reminds me a bit of Robert Heinlein as he moves through the rise and fall of a dynasty. Are you surprised the empire involves cattle, citrus, and real estate, or that the original Floridians (Seminoles) fare poorly? Now I know at least one etymology for "cracker." Clue: it has to do with whips. This interview with Smith has background photos worth watching.